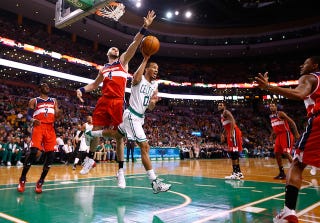 Celtics point guard Avery Bradley is unquestionably a valuable basketball player — widely respected as a bulldog of a defender, he's pulled off the difficult task of improving his shooting numbers while shouldering a much bigger scoring burden than ever before. Following the departure of off-guard Ray Allen (on the shortlist for top marksman in league history), Bradley stepped into the starting lineup in 2012-13 and clanked his way to 9.2 points per game on 40.2 percent shooting, hitting a putrid 31.7 percent from downtown.
With All-Star incumbent Rajon Rondo on the shelf since late January, Bradley moved back to his natural position at the beginning of this season and the shots started falling. With his 26-point outburst yesterday in a 106-99 loss to the Wizards, the former Texas Longhorn is now averaging 13.9 points on a relatively robust 46 percent from the field, knocking down over 40 percent of his triples as well. Bradley's four rebounds a game also give the C's more leeway to pair Jared Sullinger and Brandon Bass in an undersized frontcourt in their most-used lineup combination.
Of course, part of a point guard's job is to pass the ball, and that's where Bradley, uh, drops the ball (yes, that wordplay hurt me as much as it hurt you. Let's move on). Even before throwing up another zero in the assist column against Washington, Bradley was on track to post the lowest assist percentage by a point guard since John Hollinger started recording rate stats for ESPN in 2002. In the season opener, Bradley dished out a meager four assists — he hasn't even done that much since. Mid-November saw the 23-year-old go five straight games without a single dime, despite averaging over 27 minutes of floor time during that stretch.
Granted, the Boston offense in general was due for a decline, swapping Kevin Garnett and Paul Pierce for Gerald Wallace and Kris Humphries while devoting more minutes to trigger-happy Jordan Crawford, but this is literally unheard of. Bradley's assist rate of 8.1 percent (assist rate is the percentage of possessions used that result in an assist) is almost half that of the next-worst point guard in the league, Utah's Alec Burks. The only other point guard to post a single-digit rate with more than 11 mpg was Shannon Brown two seasons ago, and I'm fairly convinced that the Worldwide Leader is pulling a really stupid prank on us all by listing Brown at the 1. For comparison's sake, the leader generally hands out assists on 40-50 percent of their possessions, and Pablo Prigioni leads the pack at 44.7 percent this year.
Luckily for the Celtics, their 12-16 record is still good for first place in the abysmal Atlantic Division. Rondo (assuming Danny Ainge doesn't trade the last key vestige of their championship run) is due back next month, and his career assist rate of over 40 percent should inject a little more life into Boston's moribund offense. With the Knicks as laughable as ever and their Brooklyn neighbors felled by Brook Lopez's broken foot, and the Sixers and Raptors intentionally talentless, the Celtics somehow have a window back into the postseason. Until then, let's just keep watching Avery Bradley and his quest to become the least-effective passer in league history.
Photo credit: Getty
Update: As has been pointed out to me several times in the comments, despite defending the opposing team's point guard, being listed as a point guard on multiple sites and having 82games.com's lineup metrics say he has played all but six minutes as a point guard this season, Avery Bradley is no longer the facilitator of the Celtics' offense. I apologize for the error and misinformation, but the thesis still holds — he wasn't moved off the ball because he's a shooting guard, he was moved off the ball because he's bad at doing point guard things. Even factoring two-guards into the equation, Bradley still has the lowest assist rate of any regular backcourt player in the NBA.